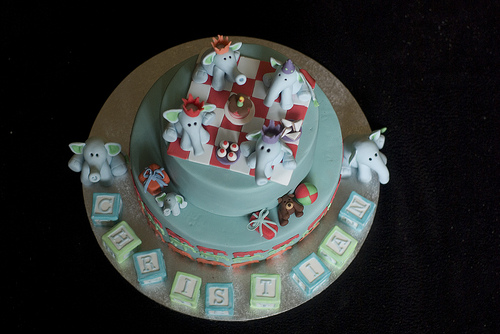 Elephants are undoubtedly the cutest animals in the world. The fact that they are large doesn't make them scary. In fact, it makes them even more lovable and praiseworthy. If you have a child who loves elephants then making an Elephant birthday cake will be a great idea for his special day.
The first idea would be to make the face of an elephant with a large trunk. You don't have to be very realistic. Make it as adorable as possible. Give big sparkling eyes and long eyelashes to the elephant. Also give it a pink or blue bow with polka dots to make it look more attractive. Don't forget to add those big ears.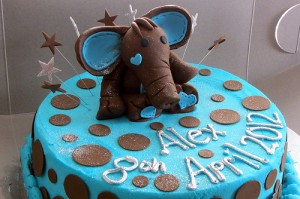 You can also make a round cake covered in green fondant. Then use some thin white fondant strips as grass. But why white? Just for some fun. Make the face of an elephant with the help of rice krispies and hold them all together with the help of a few plastic straws of skewers. It would appear as if a small elephant is walking in an imaginary grassland.
If you are fond of sculpting you can make a 3-4 tier elephant cake. Place the cakes one over the other and then carve the shape of an elephant. After the carving is complete, apply a lot of butter cream to make it look smooth. Finally, when the butter cream has had enough time to bind the whole cake together, cover it in a large grey fondant.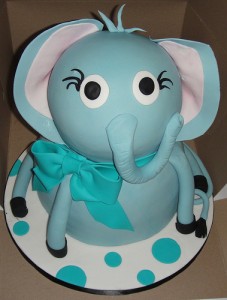 Use the tip of pencil or a chopstick to add a few wrinkles on the skin of the elephant. Use a rolling tool to give a 3D effect to the ears and mouth of the elephant. Finally apply a small oval black fondant piece over a similar but larger white fondant piece to make the eyes. Make big eyelashes and paint the toes of the elephant as well. Use a soft pink or a bright red color for the mouth. If you wish to do something more artsy, then you can write the name of your child on the trunk.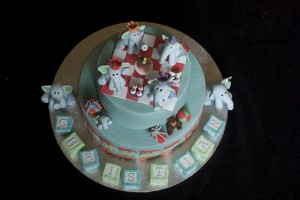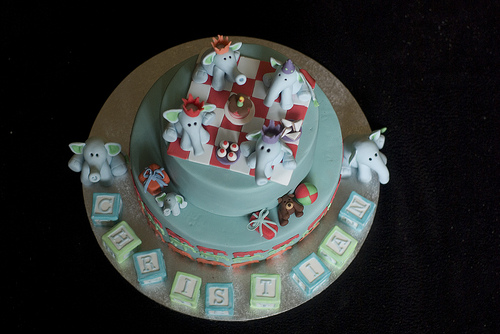 You can also bake a two tier cake covered in fondant and give the look of a big pond. Place a small figure of the elephant made of white chocolate on top. Use some icing to make a furry elephant and make eyes with icing sugar. This would truly look like an elephant straight from your fantasy land.